World Climate Summit 2015 launches with Sustainia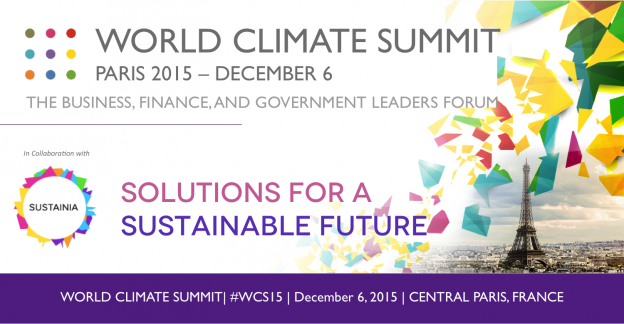 July 24, 2015 (Paris and Copenhagen) – World Climate Ltd is partnering with Sustainia, a leading global sustainability think tank, in coordinating the 6th annual World Climate Summit.
Together, they will organise the most impactful conference and awards show during the UNFCCC COP21, by bringing the top 100 sustainability solutions, and convening 500 business, finance, and government leaders and celebrities during aweekend of solutions for our climate.
The World Climate Summit 2015 (#WCS15) will be held during the day on Sunday, December 6, in Paris, France, with the Sustainia Award show in the evening.
LIMITED NUMBER OF TICKETS AVAILABLE
The World Climate Summit 2015 and Sustainia will focus on providing the leading platform of solutions during COP21, with the Road to Paris global campaign leading up to it.
Our first partners, sponsors, programme, speakers and website will be announced shortly.
"We are delighted to be partnering with Sustainia and to offer our stakeholders a fantastic solutions platform: the sixth World Climate Summit and the awards show during the historic COP21," said Jens Nielsen, CEO, World Climate Ltd.
The Sustainia Award is an annual international award given to a solution, technology, or project with a significant potential to help build a more sustainable future. An award committee led by former Governor Arnold Schwarzenegger reviews and selects a winner from Sustainia100, a list of 100 sustainable solutions, to be announced at the grand Sustainia Award Ceremony
ABOUT THE WORLD CLIMATE SUMMIT 2015 (#WCS15)
The World Climate Summit is the original global annual forum for business, finance, and government leaders during the UNFCCC COP21. It will take place in central Paris, on Sunday, December 6. It is an officially recognised event by the french government's COP21 secretariat.
In order to support and complement the signing of a global deal on climate change, World Climate Ltd is working in collaboration with Sustania and many other business, finance, and government partners. Together, they will bring the 100 best sustainable solutions to COP21 and convene CEOs and leaders for a weekend of climate solutions.
The Summit will provide opportunities to:
1. Listen to and learn from global leaders on business, finance, and policies
2. Network and develop new businesses, funds, and projects across the public/private sectors
3. Communicate and celebrate the top 100 solutions during the Sustainia Awards
ABOUT WORLD CLIMATE LTD
The Leading Global Stakeholder Platform for Green Solutions
Since 2010, World Climate Ltd has established itself as the leading stakeholder and partnership platform on climate change and the global green economy. It works with leading governments, financiers, large corporations, and global institutions in framing, partnering, and scaling needs, funds, and solutions for the green economy. World Climate Ltd is led by a team of global managers with more than 50 years experience in developing industry platforms, strategic innovation, and communications in the climate and green economy arena.
ABOUT SUSTAINIA
Based in Copenhagen, Sustainia is a sustainability think tank working to scale the deployment of innovative solutions and provide industries and organizations with a shortcut to sustainable transformation. Based on tangible know-how, innovation, and technologies, Sustainia showcases the sustainable future we could achieve if existing solutions were implemented on a large scale. Sustainia is founded by Scandinavian think tank Monday Morning and developed in close collaboration with; Realdania, DNV GL, UN Global Compact, WWF, Arnold Schwarzenegger's initiative Regions20, International Federation for Housing and Planning, Storebrand, and Connect4Climate.