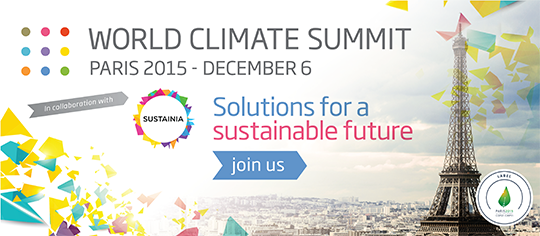 Led by World Climate Ltd co-organised with Image & Stratégie and in partnership with Sustainia, a Scandinavian sustainability think tank, this year's Summit will offer an unparalleled international solutions platform for those leaders to promote and reach a wider audience through media and social networks.

The Leading Global Stakeholder Platform for Green Solutions
Since 2010, World Climate Ltd has established itself as the foremost international stakeholder platform on climate change and the green economy. It works with governments, financiers, and large corporations in creating awareness, establishing partnerships, and aligning policies, funds, and solutions for a resource efficient world. World Climate Ltd is managed by a team of leaders with more than 50 years of experience combined in developing innovative industry platforms and communications strategies in the climate arena.
Connecting Business, Finance, and Governments
World Climate Ltd aims to bridge between the climate negotiations and country's green efforts and the business community, with important platforms like the World Climate Summit. These platforms offer unique opportunities for business to position themselves in this domain and have the opportunity to exchange with the climate policy makers and hence influence the future evolution of the policy framework of this domain.
Six Years Facilitating Collaborative Solutions
Built on the success of previous climate events & roundtables, World Climate Summit (WCS) has earned a solid reputation as the leading multi-stakeholder platform in the climate arena focused on commitments, actions and results.
World Climate Ltd has organized WCS 2010 in Cancun, WCS 2011 in Durban, WCS 2012 in Doha, WCS 2013 in Warsaw, WCS 2014 in Lima, Peru. In addition to the World Green Summit 2012 in Rio de Janeiro and World Climate Roundtable of 2011. Past speakers include President of South Africa Jacob Zuma, President of Mexico Felipe Calderón, Sir Richard Branson, Ted Turner and EU Commissioner for Climate Action Connie Hedegaard.
A new addition to the World Climate Ltd profile is the co-organization of the World Green Economy Summit which took place in Dubai this year on April 23-24th, 2015. This was a great experience for World Climate Ltd, allowing it to spread its wings into the Middle East and Africa region.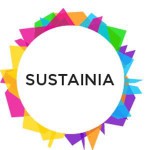 The Leading Think Tank for Sustainable Solutions
Based in Copenhagen, Sustainia is a sustainability think tank working to scale the deployment of innovative solutions and provide industries and organizations with a shortcut to sustainable transformation. Based on tangible know-how, innovation and technologies, Sustainia showcases the sustainable future we could achieve if existing solutions were implemented on a large scale. Sustainia is founded by Scandinavian think tank Monday Morning and developed in close collaboration with: Realdania, DNV GL, UN Global Compact, WWF, Arnold Schwarzenegger's initiative Regions20, International Federation for Housing and Planning, Storebrand and Connect4Climate.

Image & Stratégie - Co-organiser
Image & Stratégie est une agence de conseil en communication indépendante qui, depuis plus de 30 ans, met ses expertises et ses savoir-faire au service des institutions et des entreprises. L'agence est présidée par Bruno Fuchs.
À Paris ou à Casablanca, avec son équipe de consultants et son réseau de 120 partenaires engagés, elle impose sa marque de fabrique : influencer le débat public,  identifier, stimuler et mobiliser des communautés.