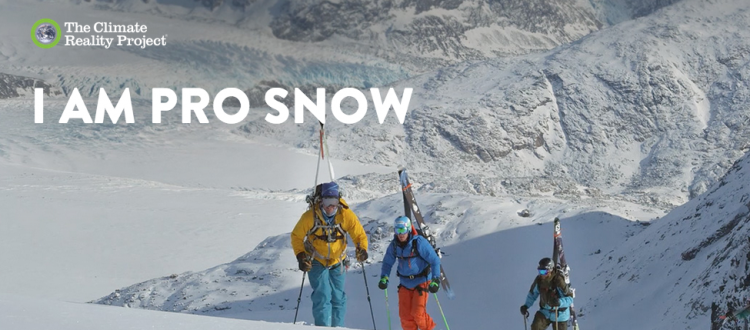 WINTER COMMUNITY TO DEMAND CLIMATE ACTION WITH PANEL DISCUSSION AT COP 21 IN PARIS
The Climate Reality Project's I AM PRO SNOW Campaign to host "I AM PRO SNOW" panel in conjunction with the World Climate Summit
Washington, DC (12/3/15) – On December 6, professional winter sports athletes, industry leaders, elected officials and key climate activists will come together for the first time with one voice to discuss how climate change is already impacting the winter sports and mountain community.
The panel discussion –I AM PRO SNOW– will examine how climate change has already begun to impact winter sports, mountain communities and winter-centric industries around the world, what the future could look like if we do not work to combat it, and what many have already been doing to fight for change. Bringing together a chorus of winter voices, the panel at the World Climate Summit alongside the COP 21 international climate negotiations, will build on the momentum of The Climate Reality Project's global I AM PRO SNOW Campaign, urging world leaders to take global action in Paris to save our winters for many generations to come.
Over the past year, the I AM PRO SNOW Campaign with its partners, including Snowriders International, has harnessed the passionate voices of winter enthusiasts from around world – the campaign has captured more than 1,500 signatures, representing the voices of over 193,000 individuals worldwide including CEOs, Olympians and elected officials and town city councils, demanding strong action to save our snow in a letter to world leaders. In addition, 11 cities – including Whistler, BC, Ísafjarðarbær, Iceland, and many cities in Utah, Colorado and Oregon – have voted to pass a resolution in support of the letter.
Climate Reality President & CEO Ken Berlin will introduce the panel discussion, and participants will include:
Porter Fox, author of Deepand editor at Powder Magazine, moderator
Elizabeth Burakowski, Researcher at NCAR Climate and Global Dynamics Division
Bruno Cercley, CEO at Rossignol
Michael Brune, Executive Director of The Sierra Club
Seth Wescott, 2-time Olympic gold medal snowboarder
Steve Skadron, Mayor of Aspen
"Even in light of the recent tragedy in Paris, world leaders are determined to come together and reach a strong agreement on climate change at the COP 21 negotiations," said Ken Berlin. "Now, more than ever, we are looking to the many diverse voices that climate change affects – like the winter sports community – to be heard. At Climate Reality, we are so encouraged by and proud of those we know will not back down from the global challenge that we face."
"The winter community is an important voice in this global climate conversation and we are thrilled to host the I AM PRO SNOW panel with the Climate Reality Project," said Michael Mathres, Director of the World Climate Summit. We aim to facilitate a powerful dialogue examining the impact of climate change on this often-overlooked community."
For more information, visit https://www.climaterealityproject.org/pro-snow.
About The Climate Reality Project
The Climate Reality Project is one of the world's leading organizations dedicated to mobilizing action around climate change. With a global movement more than 5 million strong and a grassroots network of trained Climate Reality Leaders, we are spreading the truth and unleashing cultural momentum to solve the climate crisis. Former US Vice President and Nobel Laureate Al Gore is the Founder and Chairman of The Climate Reality Project. For more information, visit www.climaterealityproject.org or follow us on Twitter at @ClimateReality.
# # #