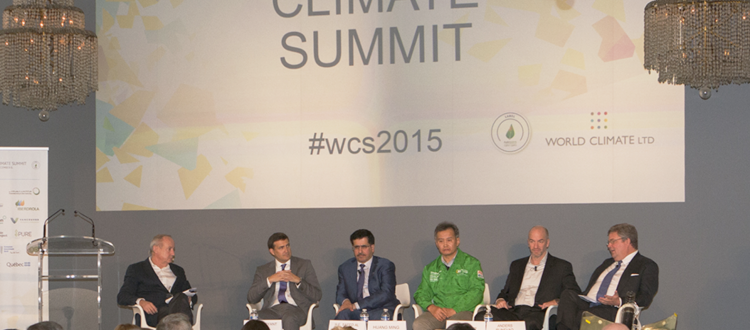 More than 800 CEOs and business leaders launch a solutions revolution at the World Climate Summit during COP21
December 14, 2015 (Paris & Copenhagen) – On Sunday, December 6, more than 800 global entrepreneurs, innovators and CEOs were joined by icons Sir Richard Branson and Ted Turner, at the annual World Climate Summit and Sustainia Award Ceremony, to launch a 'solution revolution' during the historic COP21 in Paris. There was strong consensus among participants on the need for a global deal and as a collaborative platform we are extremely pleased that a universal climate agreement was reached on Saturday December 12.
At the Summit, interactive panels and workshops were organised as an opportunity to promote and share solutions, while facilitating the launch of many public-private projects by regional and city governments.
The plenary sessions involved leaders from government, business and finance, with speakers such as Yvo de Boer, GGGI, H.E. Saeed Al Tayer, DEWA, Anders Runevad, Vestas, President Ólafur Ragnar Grímsson, Iceland, and President Felipe Calderon.
The main takeaways from the event included a clear indication that there is a need and opportunity, for the financial sector to invest in climate change solutions – provided that governments create the stable and long-term investment conditions to support this. Public and private finance must work together if we are to adapt to a new reality. Furthermore, as climate change affects us all, and nearly every aspect of our livelihoods, there is a need to integrate the concerns of the people in the way it is addressed. With exponential efficiency, reductions in costs, innovation in solutions, the world is set for bottom-up solutions to support the global agreement on climate change.
The World Climate Summit concluded with an impassioned call for climate action from H.E. Hakima El Haite, Minister of Environment for Morocco, followed by the Sustainia Award Show, where Ted Turner was awarded a World Climate Lifetime Achievement Award by Sir Richard Branson.
"This year's World Climate Summit was yet another world-class event" says Jens Nielsen, CEO, World Climate Ltd, "Since 2010 the World Climate Summit has been leading the bottom-up movement. Now, we are ready to move into the next phase of supporting the implementation of a global climate agreement with new mechanisms for partnerships and deal-making".
About:
World Climate Ltd has, since 2010, established itself as the foremost international platform on solutions to climate change and accelerating the green economy. It works with governments, financiers, and large corporations in creating growth, innovation and solutions for a low-carbon and resource efficient world. World Climate Ltd is managed by an international team with more than 50 years of combined experience in developing innovative platforms and strategies in the sustainable development.
Sustainia is a sustainability think tank working to secure deployment of sustainable solutions that improves quality of life in communities around the world. Based on readily available innovations, Sustainia demonstrates the sustainable future we could achieve, if existing solutions were implemented on a large scale. For the last four years, Sustainia has identified +3400 sustainable solutions from all over the world that are ready and available in a variety of sectors: from food to fashion, from energy to transport, from health to cities. The solutions represent new business models and a new sustainable economic paradigm: www.sustainia.me
The World Climate Summit (www.cop21.org) is the original business, finance and government leaders conference alongside COP21. Since 2009, it has been the annual global forum along the UNFCCC COP where CEOs, business, finance and government leaders meet to discuss solutions to climate change.