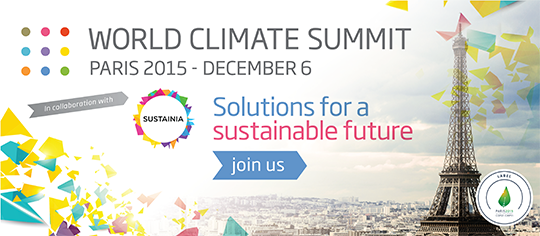 World Climate Ltd announces Partnerships with Climate Reality Project, European Investment Bank, Vancouver Economic Commission, Quebec and Xprize for the World Climate Summit
(World Climate Ltd) by Michael Mathres - 
"Just as cities need businesses and the innovation they bring to reach their renewable energy goals, businesses need cities to help them tap into the enormous market potential presented by climate change," said Ian McKay, CEO of the Vancouver Economic Commission. "We're happy to see that so many businesses in Vancouver are already leveraging this potential, and we'll be helping them every step of the way as they continue to create green economic growth."
The Climate Reality Project is one of the world's leading organizations dedicated to mobilizing action around climate change. With a global movement more than 5 million strong and a grassroots network of trained Climate Reality Leaders, we are spreading the truth and unleashing cultural momentum to solve the climate crisis. Former US Vice President and Nobel Laureate Al Gore is the Founder and Chairman of The Climate Reality Project.
The European Investment Bank (EIB) is the EU bank and the world's largest multilateral lender by volume. Supporting low-carbon and climate resilient growth is one of the EIB top priorities. Through its operations, the Bank acts as a catalyst, mobilising investment in favour of climate action in over 160 countries around the world. Building on over fifty years' experience and know-how, the EIB complements its traditional lending with innovative financing products and technical assistance tools. Last year the Bank invested more than EUR 19 billion into projects contributing to mitigate and adapt to climate change worldwide.
Vancouver Economic Commission (VEC) works to position Vancouver as a globally recognized city for innovative, creative and sustainable companies through the attraction of smart capital, smart talent and smart businesses.
Québec is a key player in the fight against climate change in North America. The government of Québec was the first to impose a price on carbon in its economy and is a founding member, together with California, of the largest carbon market in North America. Through this green growth market mechanism, the government helps companies, municipalities and citizens make the transition towards a low-carbon world. The revenues generated by the carbon market will enable Québec's economy to grow in a sustainable manner. Québec's 99.5% clean electricity grid will attract investments in clean technologies, contribute to the electrification of transportation, and reduce the carbon footprint of citizens and businesses.
Through its actions, Québec demonstrates that fighting climate change provides a unique opportunity for innovation that will also contribute to our children's future.
XPRIZE is a non-profit organization that leads the world in designing and launching large incentive prizes to drive radical breakthroughs for the benefit of humanity. Best known for the $10 million Ansari XPRIZE for private spaceflight, XPRIZE is now launching prizes in Energy & Environment, Exploration, Life Sciences, Learning and Global Development.
The recently launched $20M NRG COSIA Carbon XPRIZE is a global competition to address CO2 emissions from fossil fuels by challenging innovators around the world to develop breakthrough technologies that convert the most CO2 into valuable products. These technologies have the potential to transform how the world approaches CO2 mitigation, and reduce the cost of managing CO2. The Carbon XPRIZE is part of XPRIZE's long-term vision for creating a more positive energy future.
Registration is open, get your tickets here
Organised by World Climate Ltd, Sustainia, and Image & Stratégie, the World Climate Summit takes place this year on December 6 in Paris, France. World Climate Summit will showcase innovation and initiatives of businesses, financiers, and governments in solving climate change through a variety of panel discussions, workshops, and networking sessions. The Summit will conclude with the prestigious Sustainia Awards ceremony.
We would like to thank our partners for their support. We look forward to a fruitful collaboration of driving solutions and strategies against climate change at the World Climate Summit 2015!
About World Climate Ltd
Since 2010, World Climate Ltd has established itself as the foremost international platform on solutions to climate change and accelerating the green economy. It works with governments, financiers, and large corporations in creating growth, innovation and solutions for a low-carbon and resource efficient world. World Climate Ltd is managed by a team of international leaders with more than 50 years of experience combined in developing innovative platforms and strategies in the sustainable space.
Exhibition of low carbon fully integrated into COP21 area
2-9 Dec. Paris Le Bourget
▪ 7 days to take part to a unique business meeting to support the negotiations by demonstrating that real solutions exist.
▪ 7 days to discover innovative solutions developed and applied by companies, industries or territories that are designed to reduce the impact of economic activities on the climate.
▪ 7 days to meet international professional from 197 countries from all activity sectors: government, industry, construction, energy, transport, trade, agribusiness, services / tertiary

Please use the invitation code PAWOR233 to ask for you accreditation here.